Pando Review - Pros, Cons and Features
Author: Elufere Innocent Oghenefego
Mixin ID: 41003619
A DeFi system called Pando is concentrated on a community-driven approach to DeFi borrowing, lending of crypto assets, and supply of liquidity pools. Pando includes notable distinguishing features, such as collateralized loans, in addition to the standard features found on protocols like Aave. This way, people lending their assets can feel secure.
Industry analysts predict that by 2026, the global market for blockchain technology would reach $70 billion. That's only around the bend, therefore it's obvious that cryptocurrency is unquestionably here to stay.
Speaking of blockchain technology, consumers' interactions with it are evolving as well. Decentralized finance's (DeFi) popularity is merely a result of people wanting to transact without the constraints imposed by conventional finance. That future is powered by cryptocurrencies, and exchanges like Pando are working to offer complete transparency to the DeFi market.
But first, here are some things you should know before using the Pando platform.
Pando pros and cons
Pros
Pando has a fairly specific goal, but for good reason: it enables it to concentrate, provides the community with a defined environment, and is adaptable to changes in the larger crypto ecosystem. There are certain benefits to the Pando exchange, but it is not a decentralized platform for everyone.
These consist of:
Truly decentralized
Pando users maintain total custody and control over their Crypto assets because the network is decentralized. Compared to other platforms, where you are often required to transfer custody of your tokens to the exchange, this limits the risks to a minimum. Furthermore, this platform's decentralized design eliminates the Know Your Customer obligations associated with using centralized, or CeFi, services to lend and borrow cryptocurrency.
Fully transparent governance
Pando has taken the time to thoroughly describe the platform's ecosystem, tokenomics, and governance. This open-source strategy is intended to increase community trust, and it provides a strong model for other decentralized systems. It demonstrates that Pando is committed to ensuring robust reserves in addition to liquidity.
Dependent on Mixin network
While the ethereum blockchain is growing in popularity , it isn't without its drawbacks. You hear complaints about the network gas fee. However, the Mixin network in which pando is built on, offers zero gas fee.
Flexible rates
Other lending platforms tend to lock users into fixed or variable interest rates, but Pando offers a rate-switching function that allows users to switch between two different types of rates. This allows users to get the best interest on their loans, by choosing between "stable" and "variable" interest rates.
Cons
Every exchange has its drawbacks, and Pando is certainly no exception. Here are a few disadvantages of Pando network:
Loans require overcollaterization
Overcollaterization, as defined by Pando, is the practice of putting up more collateral than necessary to cover the risk that the value of the underlying asset would decline. Even so, Pando isn't the only exchange that needs overcollaterization in order to grant loans. This is a drawback to be aware of, though.
Not built on the ETH network
Over the years ethereum has proven to be reliable, in terms of security and scalability. However, the pando network is built on the Mixin network which is not popularly recognized like the ethereum network, so it is highly advised to review the whitepaper of the Mixin network before investing.
What is pando best for?
The advantages and disadvantages of pando work together to create a decentralized exchange that isn't for everyone. However, there are some cases where pando really shines:
Offers different options for investing: Most DeFi protocols offer a particular option, usually between lending and borrowing or liquidity pools. However, the pando network offers a user face friendly platform which supports all options for investing in the DeFi space.
Auction: Anyone can participate in the auction if a vault breaches the minimum required collateralization ratio and becomes liquidated. participants bid at an increment of not less than 3% of the previous bidding amount to cover the highest amount of the outstanding debt or participants bid at a decrement of no less than 3% of the previous bidding amount on accepting the smallest part of the collateral for the payment of the total debt.
A desire for less verification: DeFi doesn't rely on proving identity in terms of government-issued credentials. In other words, there are no Know Your Customer requirements to deal with like there are with centralized exchanges. The transactions are based on real-time verification of the underlying assets, making it great for people that aren't looking to add to their online footprint.
Key features of pando
Pando has multiple features within the exchange that make it worth exploring. Below are just a few key features to check out:
aTokens: These are special tokens that are generated when crypto users on the exchange choose to lend out crypto. This is primarily done with rTokens, the native token of pando. For example, if you deposit BTC into Pando Rings, it is converted to rBTC.
Fully open source: The source code for Pando is on Github, where anyone can not only see the code but also offer contributions.
Crypto lending rate on Pando
There are over 60 cryptos listed on pando, and the APYs are widely varied for both borrowers and lenders. You can find the full list on the Pando website. Below are a few of important note: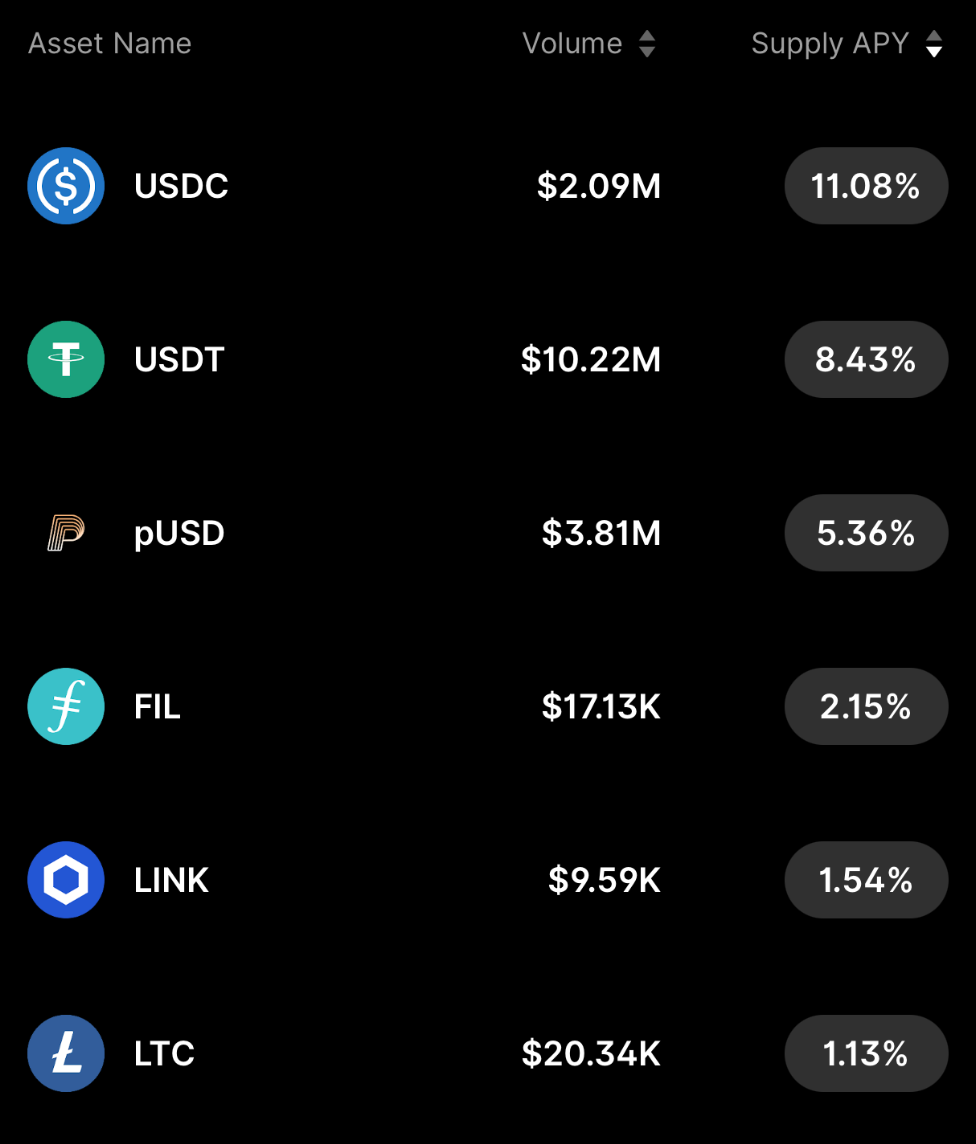 Click hereopen in new window to see the full list.
Is Pando right for you?
The DeFi space is growing, and exchanges like Pando represent a clear picture of why so many are embracing this way of borrowing and lending crypto assets. If you're looking for a clear way to borrow and lend crypto without some of the hassles you may face with centralized exchanges, Pando is definitely a great option to consider.
Wrapping Up
Pando is a decentralized exchange with a narrow focus for a good reason: open source, community-driven liquidity is pretty important. By making the methods transparent, Pando hopes to encourage not only discussion but a high level of developer involvement for a long time to come.
Frequently asked questions
What happens to the price of my deposit if it rises or falls?
After the investor pays back the debt, he will be able to get his amount of deposit back, regardless of the price change.
It's worth noting that, if the price of the collateral rises, the investor will be entitled to higher quota for borrowing as value of collateral increases, while if the price of the collateral drops, the debt may exceed the maximum amount allowed to borrow which results in the investor's collateral in danger of liquidation.
Is my crypto safe when using Pando?
Yes, your crypto is generally safe when using Pando. While nothing is guaranteed in the world of crypto, the pando platform is decentralized, which lets you keep custody of your tokens. Having control of your crypto through your wallet means that your coins are safer using pando compared to having a centralized entity taking custody of your tokens.
Does pando support metamask?
Yes, you can use Metamask with pando, along with apps like Mixin and fennec.