What's new in v2.0.0
We are excited to present a major update to the Pando web application, introducing significant improvements to enhance your browsing experience.
With this update, we have refactored the entire web application, migrating all functionalities from 4swap and providing a better user experience overall. The new Pando Web application is now the successor to 4swap, offering a seamless transition to a more advanced and feature-rich platform.
Notably, the desktop browsing experience has undergone significant enhancements, making it more intuitive and enjoyable for users. The chat mode provides an alternative and fun way to interact with Pandoopen in new window.
Key Features and Improvements
Performance improvements - We improve the UI painting performance. The time of painting pages has been reduce by 49.3%
Swap improvements - Redesigned swap interface to provide significant information you're caring about.
Liquidity improvements - Good visualized for liquidity providers.
Chatting based - An alternative way to interact with Pando.
Performance improvements
We have made significant improvements to the UI painting performance, resulting in a 49.3% reduction in the time required to paint pages. This will make your browsing experience faster and smoother.
Desktop View
We have made significant improvements to ensure that all views are seamlessly adapted for desktop browsers.
This enhancement provides users with an optimized experience while using our web application on desktop devices. Whether you're accessing our platform from a desktop browser, you can now enjoy a smoother and more intuitive user interface.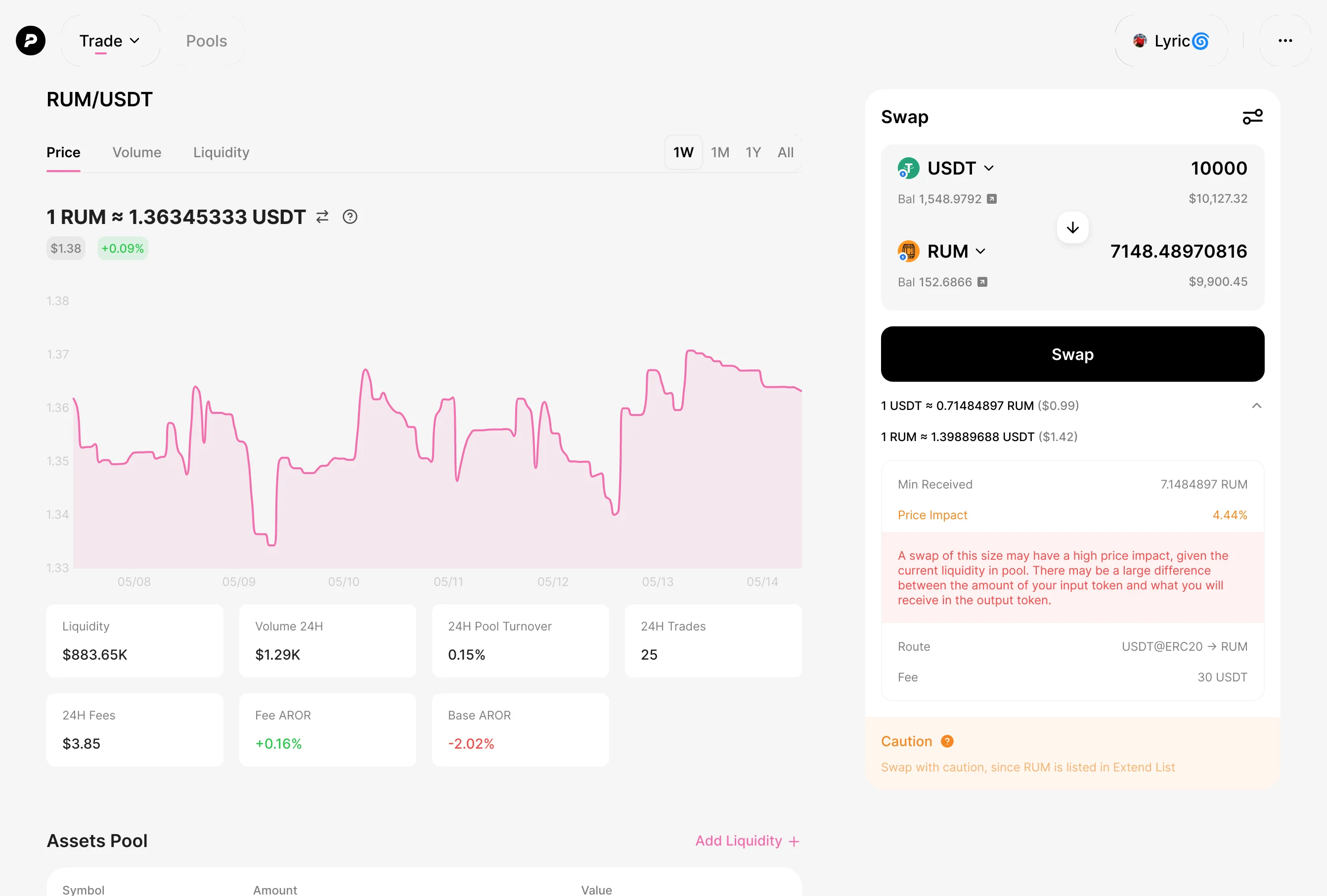 Swap improvements
We have redesigned the Swap interface, focusing on presenting all key information prominently. This includes Swap pair prices, price impact, alerts, and more.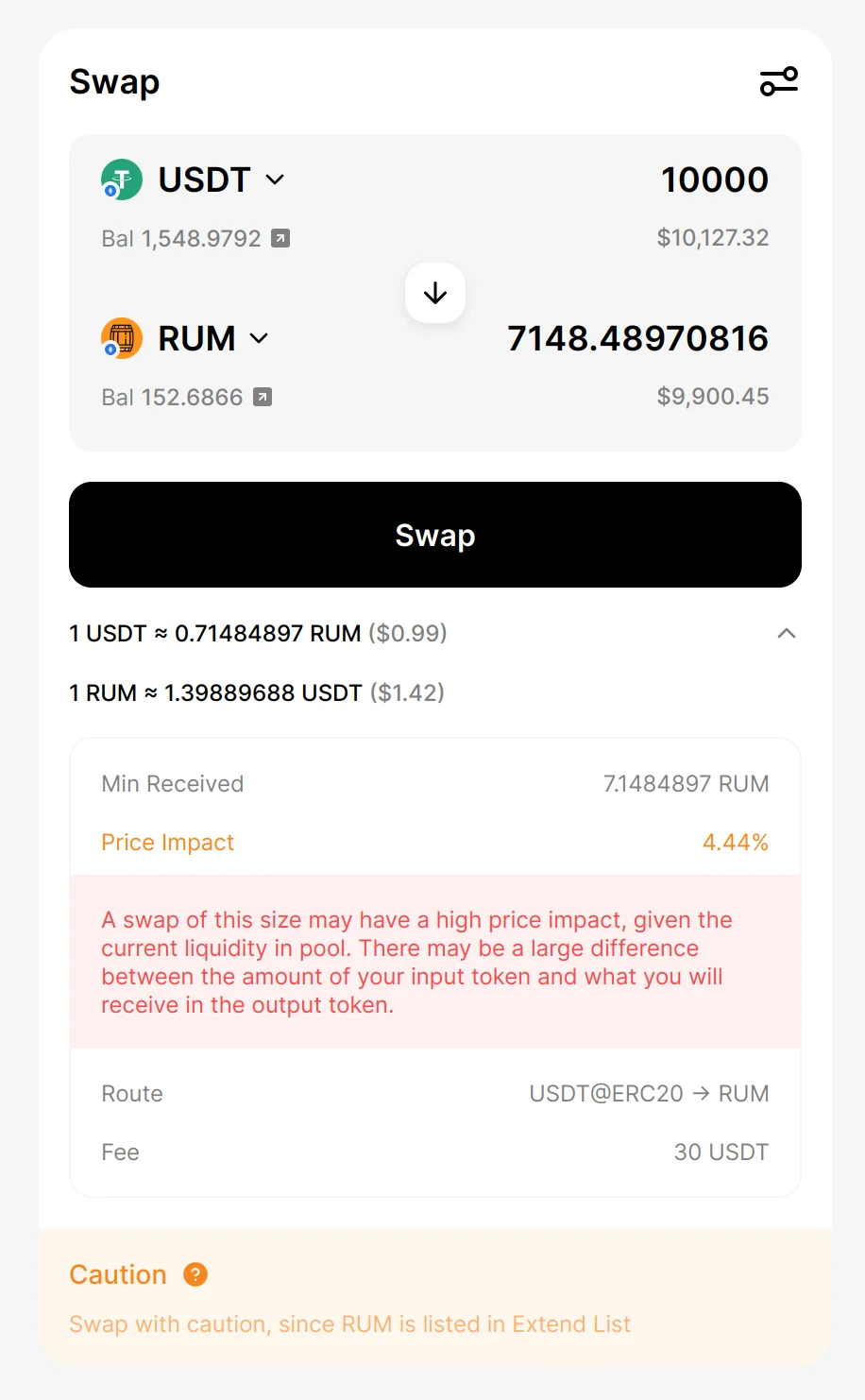 Additionally, we have implemented token-specific considerations based on the requirements of each respective Token Tagsopen in new window, enabling users to make informed decisions regarding tokens listed in different Lists.
Token Tags
At Pando, we want to assist you in safely exploring and discovering assets, and making informed decisions regarding them. This is why we've implemented Token Tagsopen in new window.
When swapping or navigating Pando Proto, you may come across red or yellow warnings, which are determined by the Token Tags. These warnings are designed to notify you of the potentially increased risk associated with trading these tokens.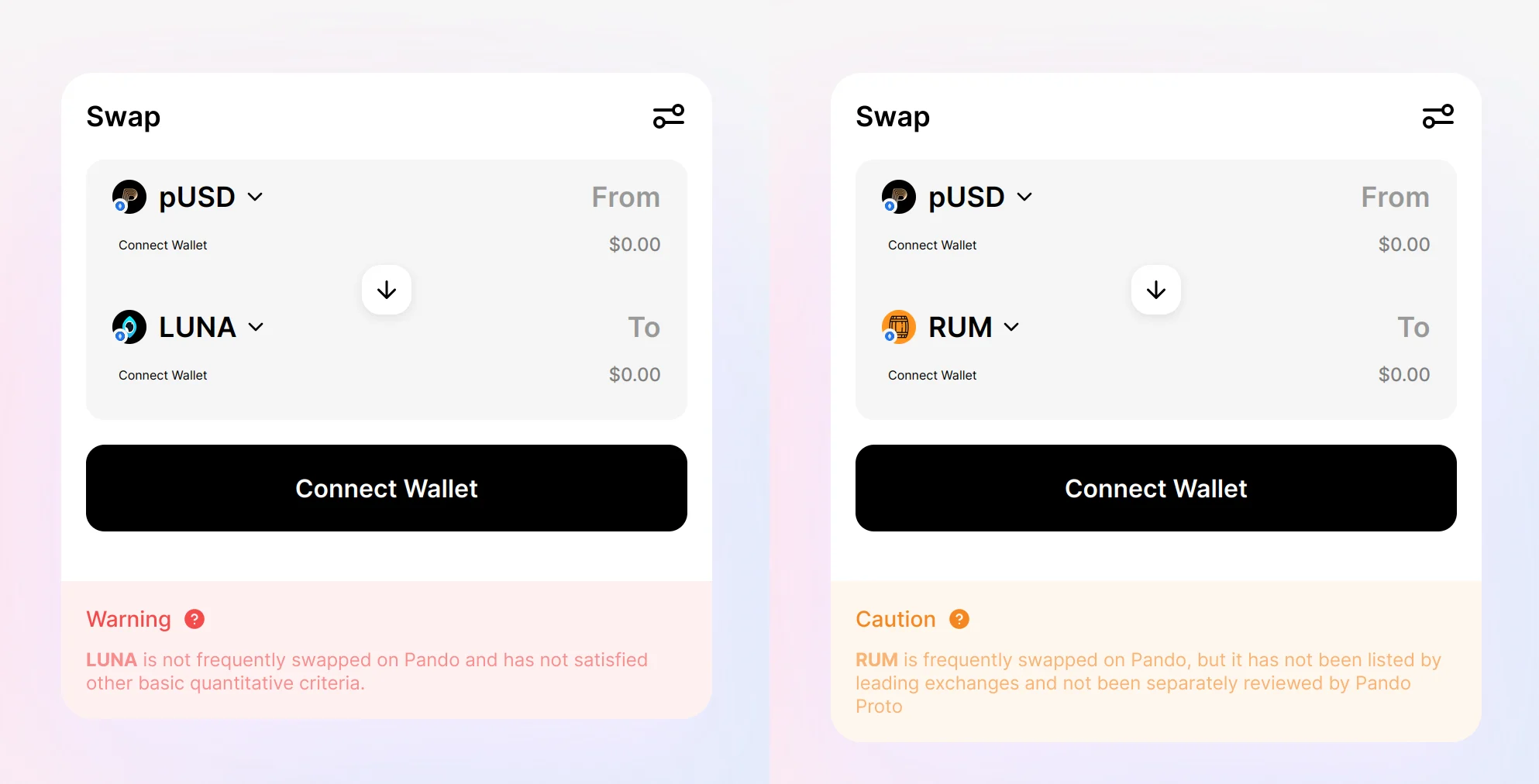 How are token safety tags determined?
Default Tag: No Warning. Any token that has been listed by at least one US-based exchange. In very rare cases, a token separately reviewed and approved by Pando MTG members.
Extended Tag: Caution. Any token that is frequently swapped on Pando Proto and has satisfied the quantitative criteria. We plan to update these criteria over time.
Not with two above tags: Warning. Any token that not satisfied the quantitative criteria.
Blacklisted: The token is blacklisted by Pando Proto and cannot be swapped.
Token Visibility
For the tokens that are labeled as "Default" or "Extended", they are visible in all senarios: search, swap, and liquidity mining pool list.
For the tokens that are not labeled as "Default" or "Extended", they are only visible at the swap page.
Token Tags Criteria
The following criteria are used to determine the "Extended" tag:
The token has been listed on Coinmarketcap for at least 180 days, and in the top 200 by market cap.
The token has good liquidity routes to pUSD. The routes from pUSD to the token should have good liquidity with low price impact.
Any token that satisfies any of the above criteria will be labeled as "Extended".
Liquidity improvements
We have introduced visually enhanced features for liquidity providers, allowing for better understanding and analysis of liquidity-related data. This enhancement aims to empower providers and optimize their liquidity management.
In the new version of the liquidity pool interface, you can now view not only basic information such as total liquidity and daily trading volume but also the recent 30-day approximate annualized yield calculated based on the trading history of the pool.
We provide two different yield metrics: fee-based yield and asset-based yield.
A higher fee-based yield indicates greater trading activity in the pool in recent times, while a higher asset-based yield signifies a higher overall return of the pool.
We believe that these two yield metrics will better assist liquidity providers in understanding the profitability of different liquidity pools and help them adjust their liquidity provision strategies accordingly.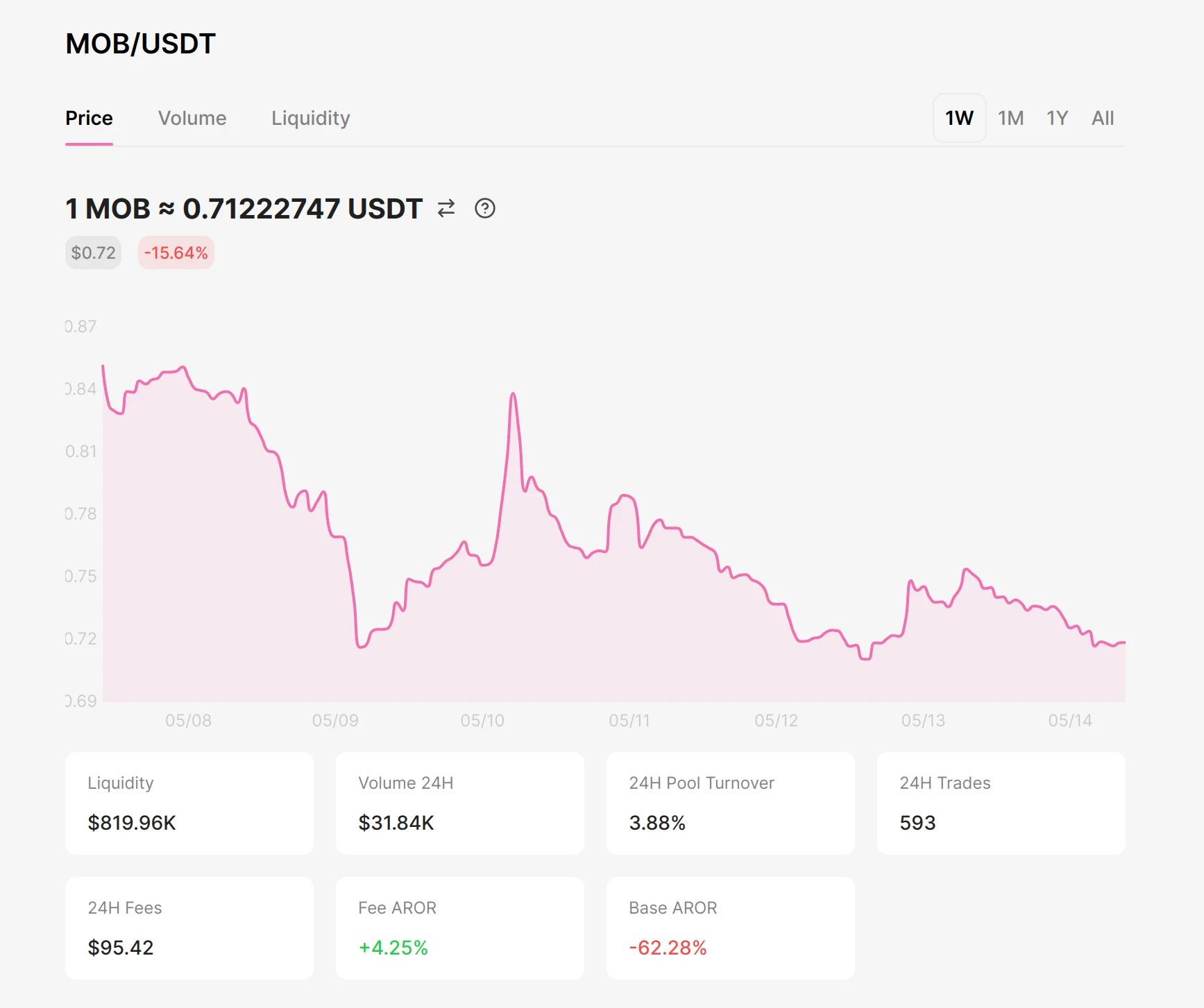 A new "pUSD profit rate" is serving as a reference for approximate fiat profit rate. It is conveniently located next to the coin-based profit rate for easy comparison.
We have also redesigned the overall presentation of the chart and data as follows:
The rate chart will now be divided along the Y=0 axis line, enabling liquidity providers to quickly assess their yield performance at a glance.
The latest rate and amount is now integrated with the chart, allowing users to simultaneously view the current value and historical trends.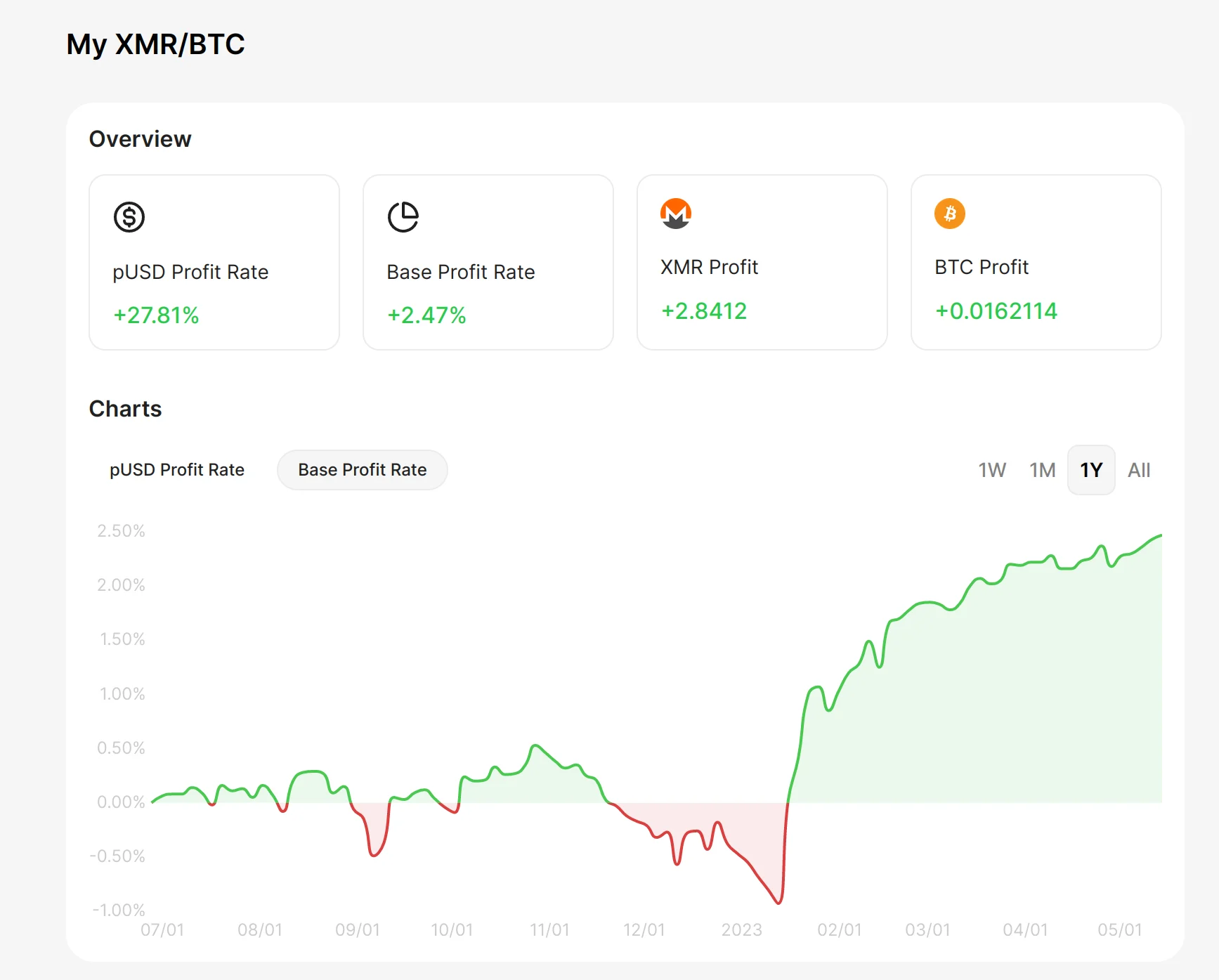 Chat Mode (Chinese only)
Introducing a novel way to engage with Pando, we now offer a chat-based interface for interaction. This alternative method expands your options and enables more intuitive and personalized exchanges with our platform.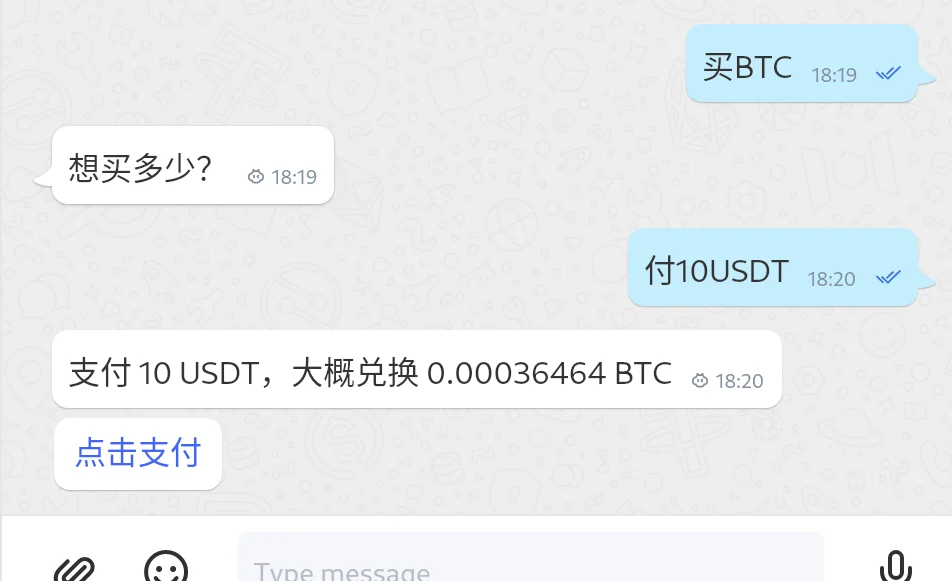 You can ask our bot on Mixin Messenger directly to take supported actions such as "swap for cryptocurrencies", "add balance to regular investment account", etc.
Quick Deposit
According to previous newsopen in new window, we have the collaboration with MixPay. Now you can deposit cryptocurrencies to Pando Proto directly from MixPay.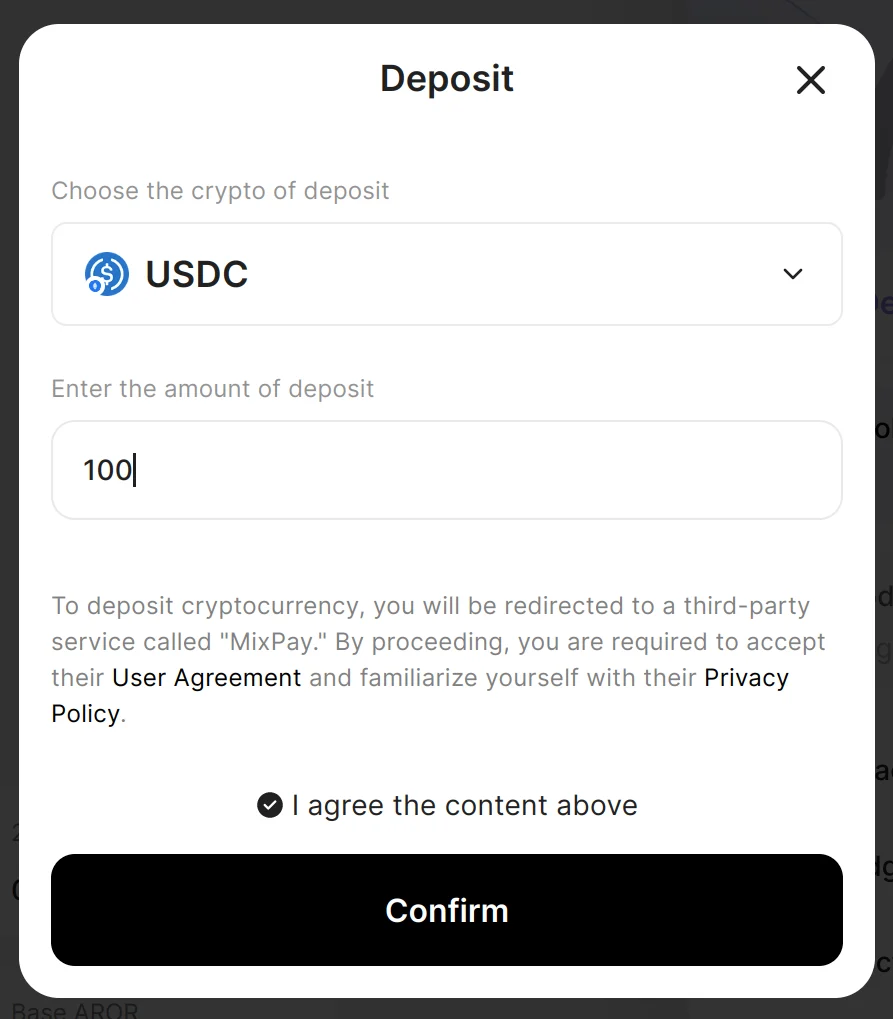 It's a convenient way to deposit. You can deposit any cryptocurrencies supported by MixPay, and the deposit will be converted to the target cryptocurrency automatically.