Pando - One-stop Shop of DeFi Services
Indicated in its name that is inspired by the plantopen in new window Pando, which is known to be the heaviest and one of the oldest living organisms and has a massive underground root system, Pandoopen in new window harbors the ambition to be long-standing and comprehensive in its services. It currently offers a suite of DeFiopen in new window (decentralized finance) services including crypto wallet, crypto trading, borrowing and lending, stablecoin minting, and passive interest earning. With the easy switch among different dApps using the drop-down menu, you will find you can conveniently have their various needs fulfilled in just one platform. As it is built on Mixin Networkopen in new window, Pando products enjoy the benefits of zero gas fee, and the lightening-fast transaction speed.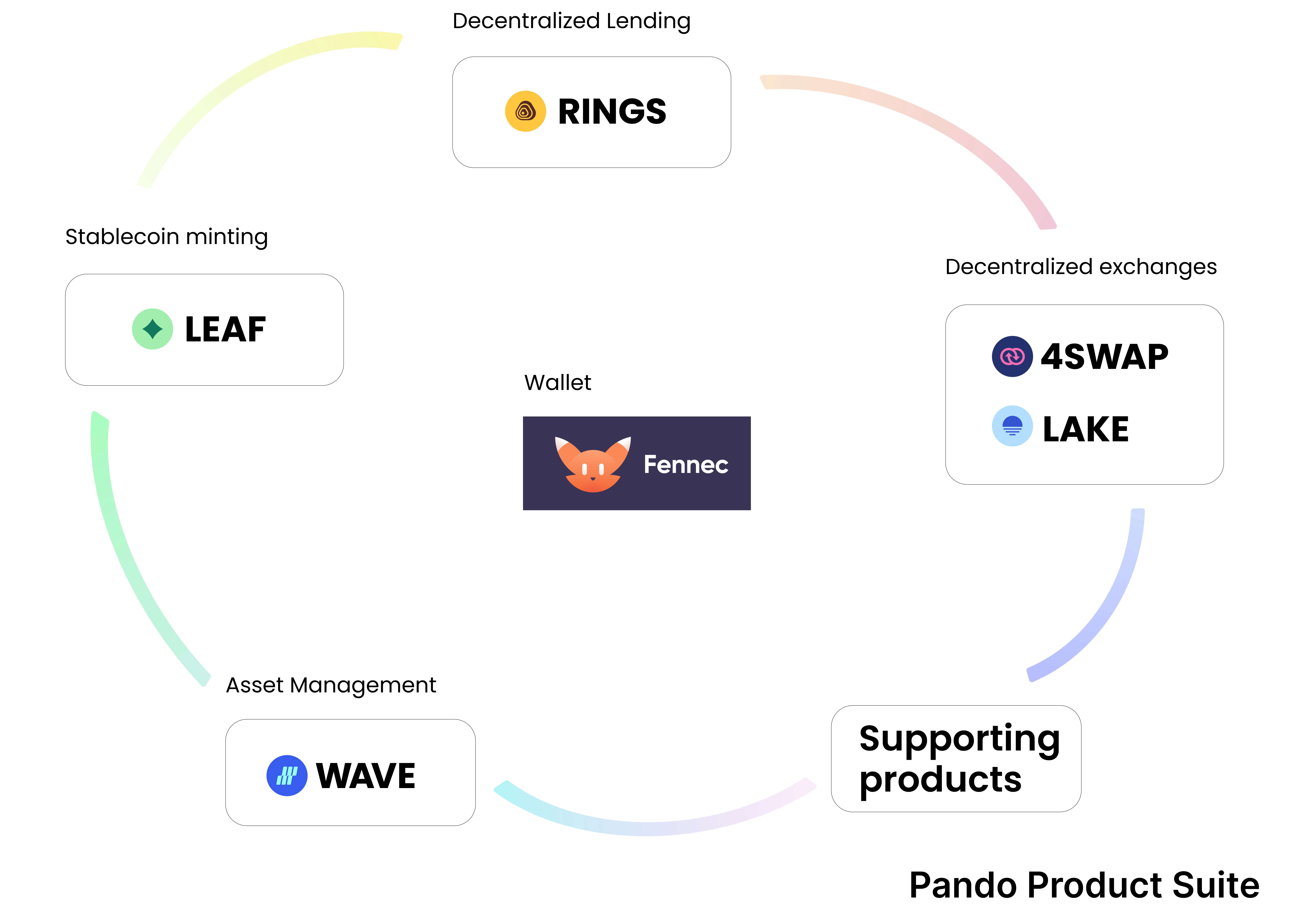 To access the products, you can directly go to Pando's official websiteopen in new window and navigate to the specific product pages. Or if you have downloaded Mixin Messengeropen in new window, the dAPPs can also be found inside Mixin Messenger.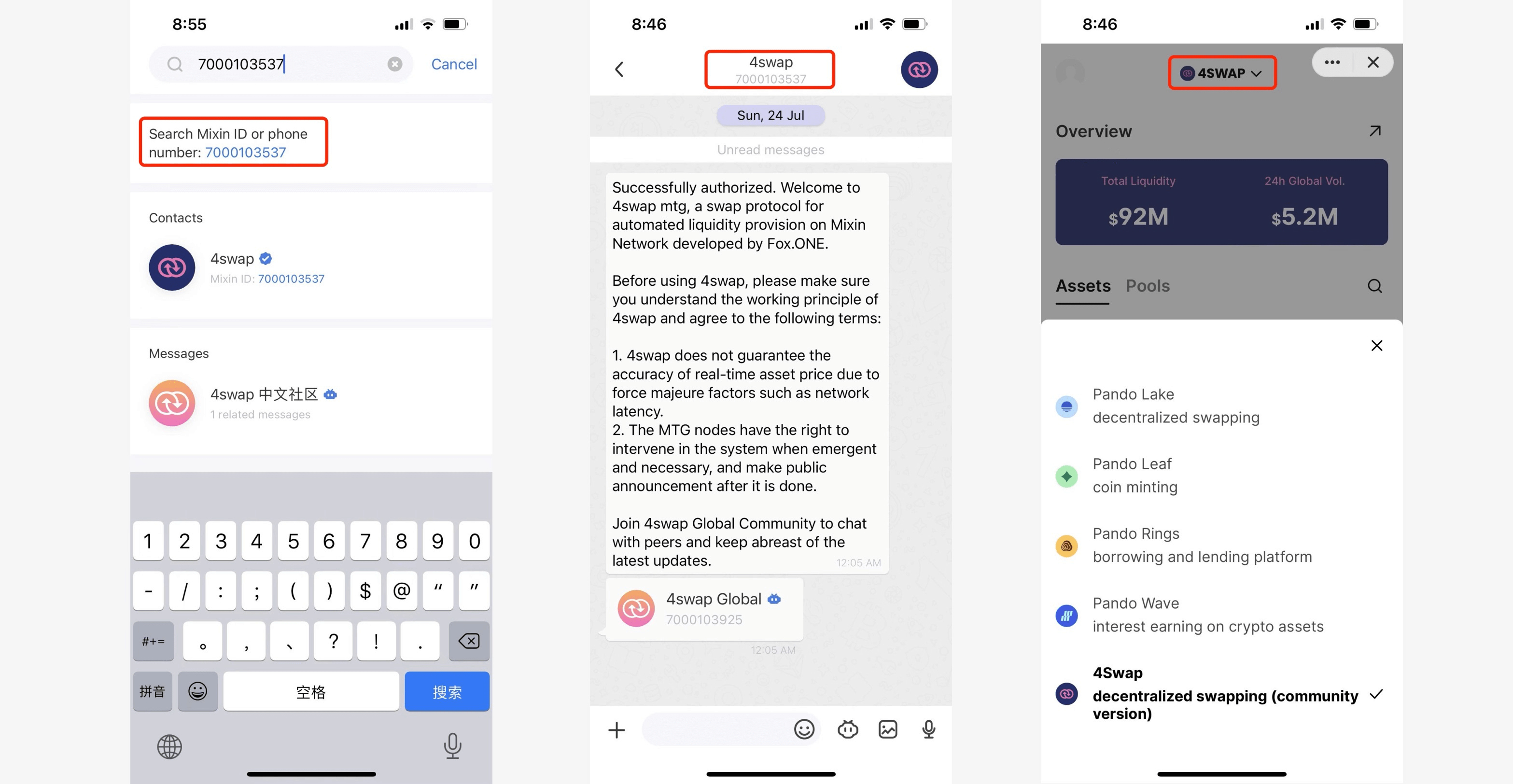 Pando wallet: Fennec
An easy-to-use web extension crypto wallet where you can store, send, receive and exchange tokens, Fennec serves as the entrance to all Pando DeFi services. If you don't have a wallet address yet, a new wallet can be created within easy steps.
Decentralized Exchange: 4swap / Pando Lake
There are two decentralized exchanges (DEX) under Pando - 4swap and Pando Lake. Both use Automatic Market Maker (AMM) mechanism. 4swap is community-driven, currently having 144 pairs of cryptocurrencies available for trading. As the exchange is built on Mixin Network, it supports swapping assets of multiple chains. You can request to list new pairs by sending the application. Pando Lake, on the other hand, with the aim to better guard the safety of user assets, lists only crypto assets that are backed by solid development team and strong communities. Apart from Fennec and Mixin, both 4swap and Pando Lake support MetaMask wallet. You can easily enjoy the gas-free, convenient, speedy transaction experience without needing to go through the hassle to install yet another wallet.
Decentralized borrowing and lending: Pando Rings
Pando Rings is an algorithm-driven decentralized platform for lending and borrowing. If you have plans to hold on to certain cryptocurrencies for a long term, you can supply the cryptocurrencies to Pando Rings. With the current annual percentage yields of USDT and USDC at 11.74% and 6.67% respectively, it is quite a good destination to generate some passive earnings. If you want to gain some liquidity, you can collateralize crypto assets on Rings for a loan. The value of your collateral are required to be higher than the amount you intend to borrow to fully over the risk from price fluctuation of the collateral.
Stablecoin minting: Pando Leaf
Pando Leaf is a place where you can deposit collateral to generate the stablecoin Pando USDopen in new window (pUSD) and destroy it when repaying the generated pUSD. The pUSD is overly collateralized and strictly pegged to US dollar at the ratio of 1:1. It can be used across the ecosystem of Pando. For example, you can generate pUSD and then use it in Pando Rings, 4swap or Pando Lake. You can also use pUSD on Quillopen in new window, a paid content platform to purchase articles.
Passive interest earning: Pando Wave
Pando Wave is a decentralized platform where you can earn passive earnings on your crypto assets. Currently, it offers earning plans on USDT and USDC both on flexible terms.
Supporting products:
Apart from the above dApps that offer DeFi services, there is one specific product facing to users that is worth mentioning:
Crypto Faucet: Pando Catkin
Pando Catkin is a place where you can get free coins either by simply claiming with no strings attached or by accomplishing tasks. You can now claim free ETH if your crypto assets at the wallet address on Mixin Virtual Machineopen in new window (MVM) and the Ethereum mainnet meet the a very reacheable basic equirement.
Get in touch
You can find Pando on:
If you have already downloaded Mixin Messengeropen in new window, you can join Pando's communities on Mixin at:
4swap Community on Mixin Messenger: 7000103925
Pando Community on Mixin Messenger: 7000104110
You can also write to Pando at contact@pando.im